Habib Wehbi Among Arabian Business 50 Most Inspiring Business Leaders
Habib Wehbi Among Arabian Business 50 Most Inspiring Business Leaders
By Arabian Business

September 2022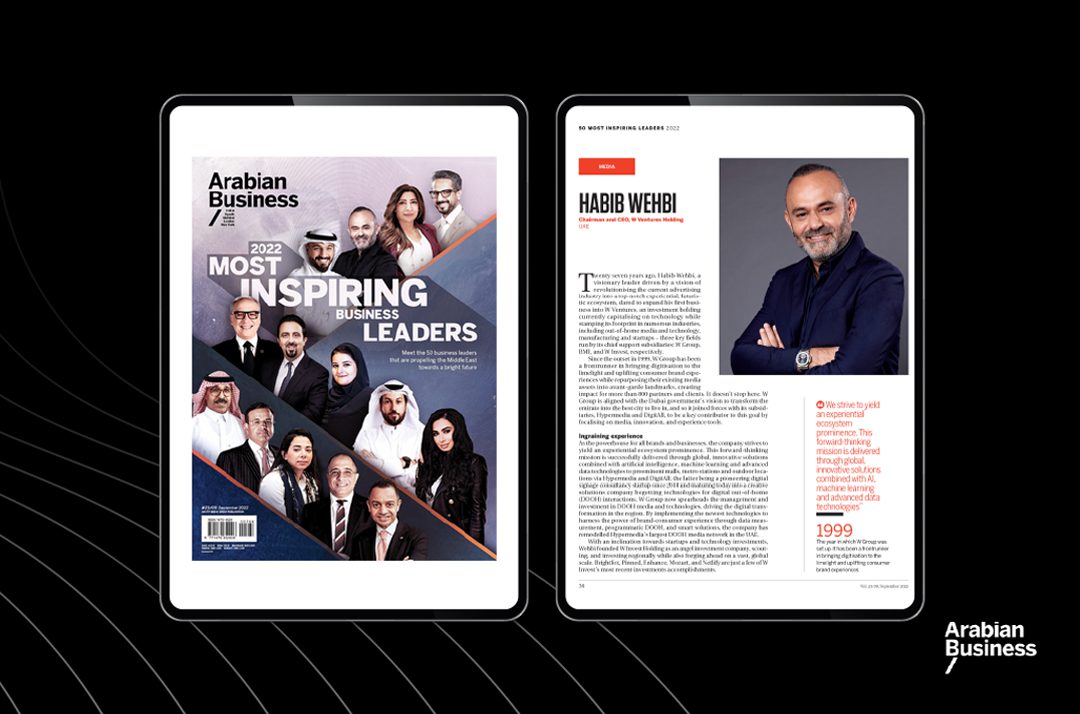 W Ventures Holding Chairman Habib Wehbi was featured by Arabian Business (AB) magazine among the top 50 most inspiring business leaders in 2022, who are propelling the Middle East towards a bright future.
AB wrote in their introduction: The Middle East has been on a transformational journey, becoming a global hub for innovation, technology, and growth. With so many stories of success, it was no easy feat to pick just 50 leaders among the many deserving contenders to fill this list.
Habib Wehbi Profile in Arabian Business
Twenty seven years ago, Habib Wehbi, a visionary leader driven by a vision of revolutionizing the current advertising industry into a top-notch experiential, futuristic ecosystem, dared to expand his first business into W Ventures, an investment holding currently capitalizing on technology while stamping its footprint in numerous industries, including out-of-home media and technology, manufacturing and startups – three key fields run by its chief support subsidiaries: W Group, BMI, and W Invest, respectively.
Since the outset in 1999, W Group has been a frontrunner in bringing digitization to the limelight and uplifting consumer brand experiences while repurposing their existing media assets into avant-garde landmarks, creating impact for more than 800 partners and clients. It doesn't stop here. W Group is aligned with the Dubai government's vision to transform the emirate into the best city to live in, and so it joined forces with its subsidiaries, Hypermedia and DigitAll, to be a key contributor to this goal by focalizing on media, innovation, and experience tools.
Ingraining experience
As the powerhouse for all brands and businesses, the company strives to yield an experiential ecosystem prominence. This forward-thinking mission is successfully delivered through global, innovative solutions combined with artificial intelligence, machine learning and advanced data technologies to preeminent malls, metro stations and outdoor locations via Hypermedia and DigitAll; the latter being a pioneering digital signage consultancy startup since 2014 and maturing today into a creative solutions company begetting technologies for digital out-of-home (DOOH) interactions.
W Group now spearheads the management and investment in DOOH media and technologies, driving the digital transformation in the region. By implementing the newest technologies to harness the power of brand-consumer experience through data measurement, programmatic DOOH, and smart solutions, the company has remodeled Hypermedia's largest DOOH media network in the UAE.
With an inclination towards startups and technology investments, Wehbi founded W Invest Holding as an angel investment company, scouting, and investing regionally while also forging ahead on a vast, global scale. Brightfox, Pinned, Enhance, Mozart, and Netlify are just a few of W Invest's most recent investment accomplishments.